Dear OAaSIS,
I went to a program during summer of 2017. It was kept at the waterfront downtown. Mr Stanford Watson, an artist kept it there. He was working for the Multicare Foundation, but he used the space in the National Gallery of Jamaica.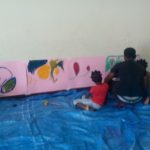 We draw and paint and make things there too at the art programme. I made bracelets there. The teachers are nice. There are five teachers in the class.
The children who were 6-8 sat on the tarpaulin. We sat in groups of two when we are painting, drawing and making bracelets with tiny beads.
All the works are easy.
The children who are 9-11 sit on the chairs, and the children who are 12-15 sit on the chairs too.
Everybody work is hard except the little children's work.
It was fun and I met a lot of friends. We ate breaks at 11 o'clock. We ate lunch box or patty for lunch. We have one more week to go and I am looking forward to it.
Shanique Dawes, 7 years old